Regular price
Sale price
$0.00 USD
Unit price
per
Sale
Sold out
Now offering braille beaded products in bulk quantities!
Do you have a group or organization that you would like to purchase custom bulk braille apparel for? We can create fully customized and co-branded apparel, help source and ship the specific items you're looking for, or add braille beadwork to an existing textile based product.
To request bulk order pricing and to learn more about placing an order book a complimentary virtual meeting here. Alternatively, add this item to your cart at checkout using your name and email. Once completed a member from our team will contact you to schedule a 30 minute consultation or to confirm your selected meeting time. During the meeting we will discuss the items you would like brailled, brainstorm potential designs options, and determine timelines.
Past bulk order clients and projects include creating custom branded braille merchandise for visually impaired jazz phenomena Matthew Whitaker to sell on his website and while on tour. We also recently worked with the American Foundation for the Blind (AFB) to create a 1,000 piece order of custom braille hats for their 100 year anniversary fundraiser.
View full details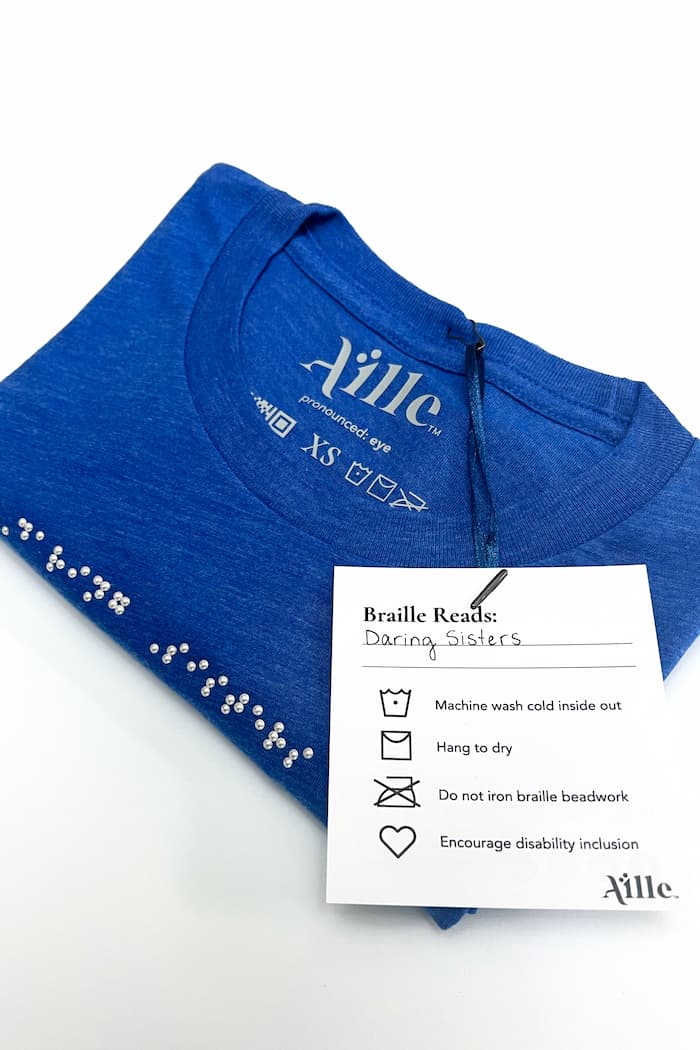 Customer Reviews
02/13/2023
The shirts are a hug hit!!
The collaboration with Aille Design could not have been better. Alexa and her team are wonderful to work with; professional, efficient, helpful and patient…simply a joy. The passion and attention to detail is evident in every tee shirt that we received. Even the way the shirts were wrapped it the package was special. The quality of the design and the shirt itself is probably one of the best I've ever seen and felt. Thank you Aille Design! Michelle Taylor (Manager, Matthew Whitaker) Passion Music Group
Michelle T.

United States
02/13/2023
Matthew Whitaker x Aille Design merch
Collaborating with Aille Design was such a great experience! From the beginning, Alexa and the team were great to work with. They provided above and beyond customer service and their attention to detail made the tee shirts turn out beautiful. Thanks guys! - Matthew Whitaker
Matthew W.

United States
02/07/2023
AMI-tv Fashion Dis Promotion
We had the pleasure of working with Aille Design during the media promotion of Fashion Dis on AMI-tv. Alexa was a fantastic and attentive collaborator, suggesting t-shirt and mask designs and colours that would complement the press materials, and the Braille message on the shirt, "Fashion is for everyone" was perfect. We, and the people who received the t-shirts and masks, were impressed with the quality of the items and were excited to wear them. We look forward to working with Alexa again in the future. — AMI
Greg D.

United States
01/16/2023
Daring Sisters Bulk order
5* for sure. The Aille Design Team was so wonderful to work with on the whole process. They took time to help us design just the right shirt for us and included us in the whole process. We are all so happy with our beautiful shirts that represent who we are so beautifully. The shirts are not only representative of our group's value of inclusion - they are also beautifully fashionable and high quality.
Becky A.

United States