Regular price
$149.00 USD
Regular price
Sale price
$149.00 USD
Unit price
per
Sale
Sold out
Size Chart
Now available for rent in sizes XS-2XL!
Interested in The Blue Dress but only need it for a special event, fashion show, television feature or photoshoot? The Blue Dress can now be rented for short-term use. Rental services will allow even more people to experience the impact of this design which features 2,654 braille beads that describe the color blue from the perspective of ten blind women.
The goal of this piece is to showcase how blindness is a spectrum and fashion is felt, not seen. Designed to be enjoyed by all audiences, the blue dress is bold, covered in braille, and makes a fashion statement you can feel. It shares positive messages about disability inclusion, finding yourself, and taking pride in who you are and who you are becoming.
Rental Price Includes:
10 Day Rental Service
Free Shipping and Pre-Paid Return Label (Canada & USA)
Cleaning and Restocking
Made to Order + Shipping

Pre Order:

The blue dress is created on a made-to-order basis. This means we don't start sewing your dress until the order has been placed. Orders will be sewn, hand beaded, and shipped between 1-2 months. If you need your dress sooner, please send us an email and we will do our best to accommodate!

Shipping:

We ship worldwide! Our team will carefully hand bead, package, and ship your order from Buffalo, New York. Please send us an email at hello@ailledesign.com if you have any questions.
Style Details + Special Features

Review our size chart to find your perfect fit!


Style Details:

- High neck

- Sleevless

- Razor back style

- Dress linning for added comfort and to help conceal undergarment lines and bumps.

- Exposed zipper on the back of the dress. Zipper starts at top of neck and ends below shoulder blades.

Special Features:

- The zipper has a long pull tab made with farbic that is the same length as the zipper on the dress. This easy to reach pull tab feature was added to make it easier to put the dress on and off on your own.

- 15" side slit for easy movement and walkability. Whether or not you use a white cane or guide dog to navigate, this slit helps you move around comfortably.

- Regular dress fit with longer length. Full length of the garment varies based on your height, but the standard length ends just above the ankle.

- Ultra-soft silky smooth fabric that does not wrinkle.

- Clothing tag features washable QR code.
Accessible QR Code

Clothing tag features washable QR code with important information in an accessible format!

To access the code, follow these steps:

1. Open camera on your phone.

2. Hover the camera over the clothing label.

3. Once the camera has detected the QR code, a clickable link will appear on the screen.

4. Click the link to receive information about the blue dress

The QR code clothing label contains accessible information about the physical description of the garment, a transcript of the braille beadwork, inctructions on how to best wash and care for the dress, and style tips on how to wear the dress for different occasions.
Materials

Legible braille created with premium crystal pearls. Fabric consists of 95% polyester and 5% Spandex, and best of all, this fabric doesn't wrinkle!! It's a very soft and silky smooth material that is light weight. No need to worry about steaming, ironing, or even getting creases when sitting down or moving! This dress is very easy to care for making it that much more accessible!
Wash Instructions

Turn your dress inside out before washing. Machine wash with cold water. Hang to dry. For best results, wash sepately. Alternatively, place the dress in a mesh wash bag to keep it separated from all other items you are washing. Do not put dress in dryer.
Design Process

The intricate braille beadwork is applied by hand with great care and precision. Our garments are created in a process called co-design where we work alongside a diverse team of sighted and non-sighted individuals consisting of braille readers, fashion stylists, and disability advocates. Each item is made in North America and is designed to initiate conversation about disability inclusion.
Accessible Packaging

Accessible packaging includes a large print and braille card describing the product and how to wash it. We use a braille slate and stylus to add all of the braille by hand. An embossed version of the Aille Design logo is also on the card.
Sustainability

Products: Our high quality products are designed to endure a long lifespan and become a key part of your wardrobe. We also produce limited product quantities to help reduce waste.

Packaging: Our simulated braille tissue paper and branded stickers are eco-friendly and can be composted or recycled after use.
Shop Now, Pay Later!

Aille Design purchases are elligble for ShopPay, a secure service that allows you to shop now, reveive your product, and pay later!

How do I use ShopPay?
1. Add items to your cart
2. Check out with Shop Pay
3. Pay in 4 installments without interest or hidden fees
4. Enjoy your new braille fashion

What is the option to pay in installments on Shop Pay?
When checking out with Shop Pay, you now have the option to pay now or later. Paying in installments on Shop Pay allows you to split your purchase amount into 4 equal, biweekly installment payments—with 0% interest, no hidden or late fees, and no impact on your credit score.* In some instances, your first payment is due when you make your purchase; otherwise, your first payment is due 2 weeks after your purchase.

Which payment methods are accepted on Shop Pay?
The installments option on Shop Pay is available on debit and credit cards.

Are there late fees?
No, there are no late fees if you miss a scheduled payment.

What if I make a return on a purchase made through installments with Shop Pay?
If we process a refund, the refunded amount will be returned to your original payment method within 3-10 business days, and your balance will be updated.

Have more questions?
For questions about installment payments on Shop Pay, visit shop.affirm.com/help.
For questions about Shop Pay or the Shop App, visit shop.app/help/shop-pay.


* Rates from 0% APR or 10-36% APR. Payment options through Shop Pay Installments are subject to an eligibility check and are provided by these lending partners: affirm.com/lenders. Options depend on your purchase amount, and a down payment may be required. State notices to consumers affirm.com/licenses.
View full details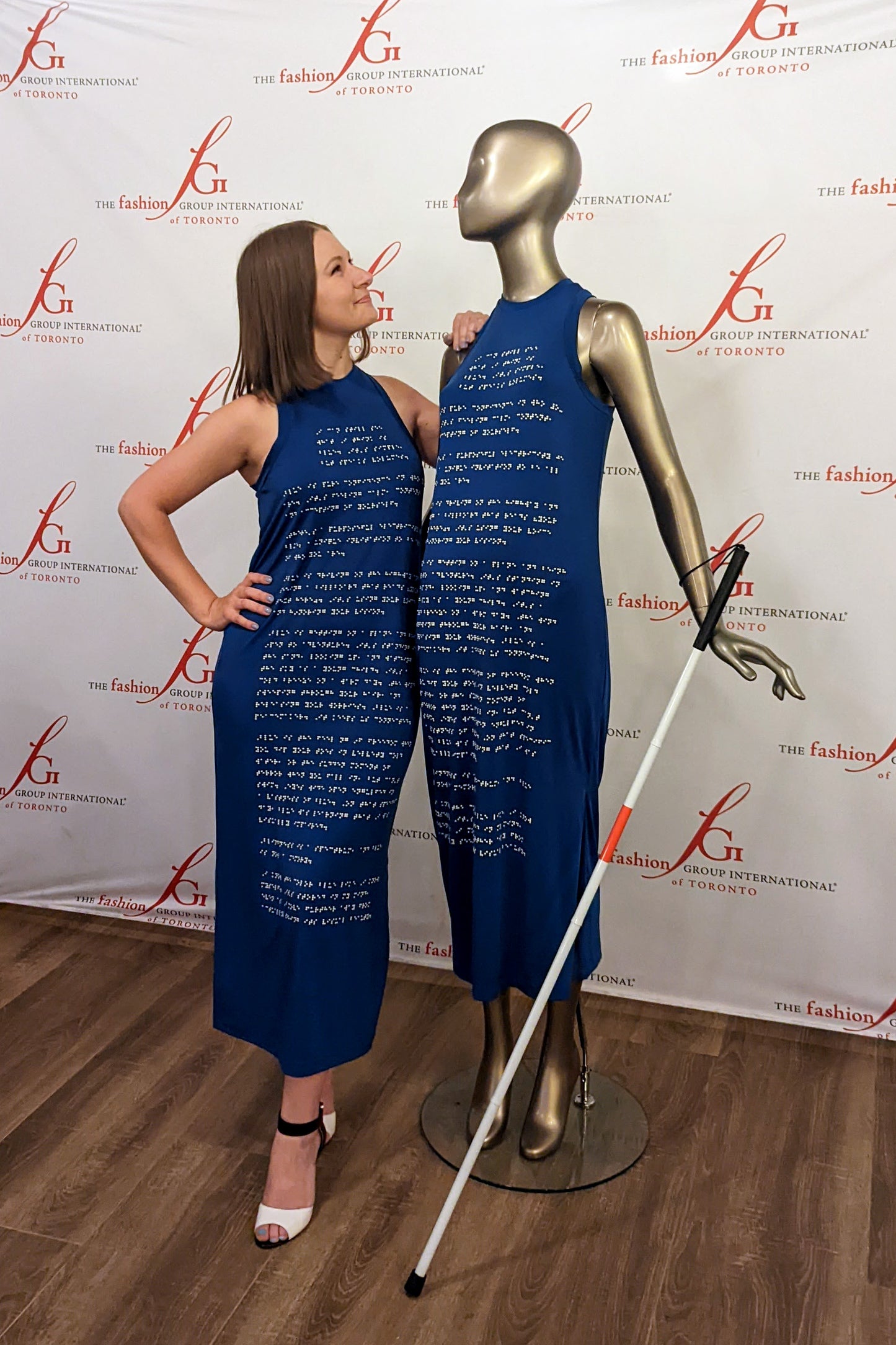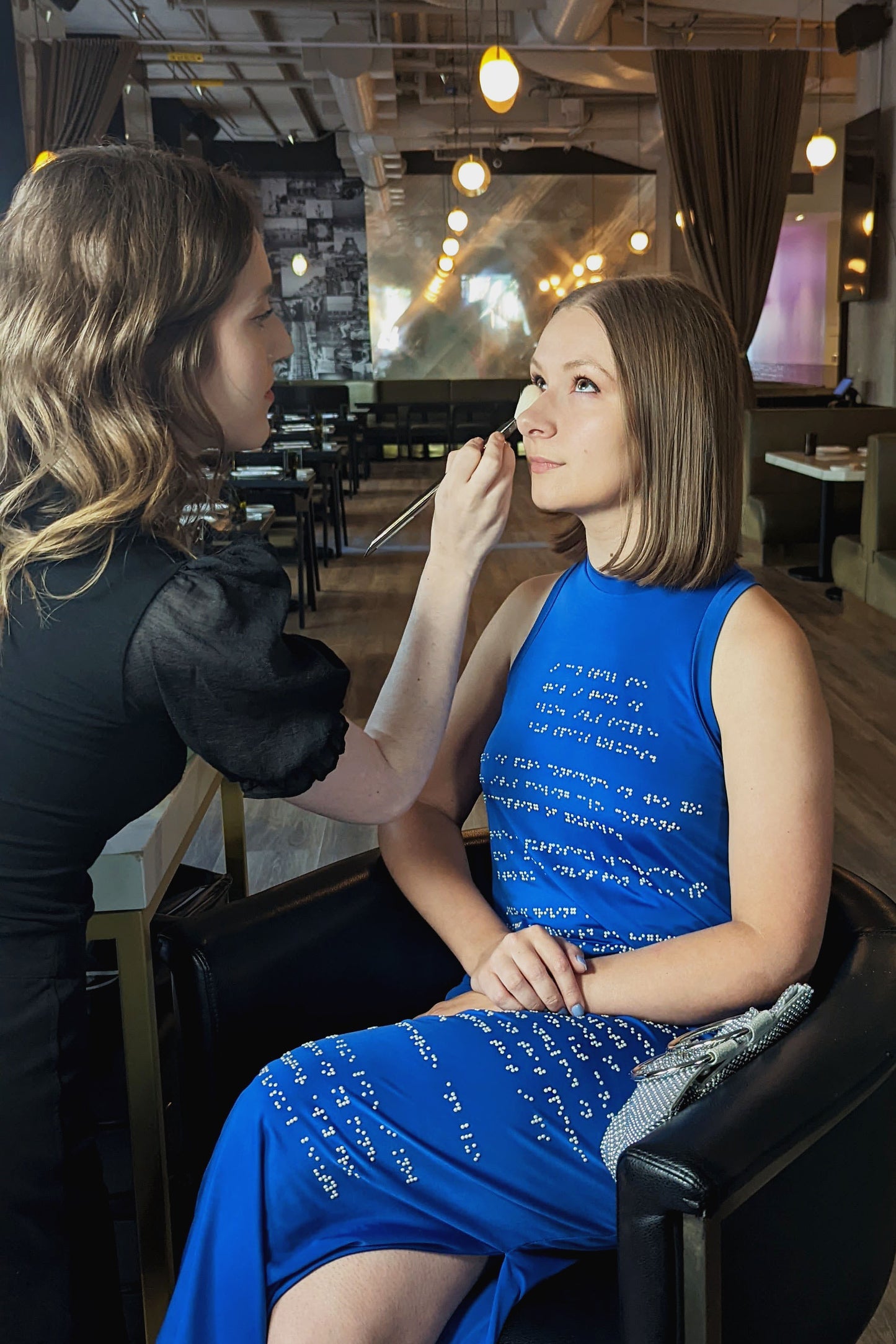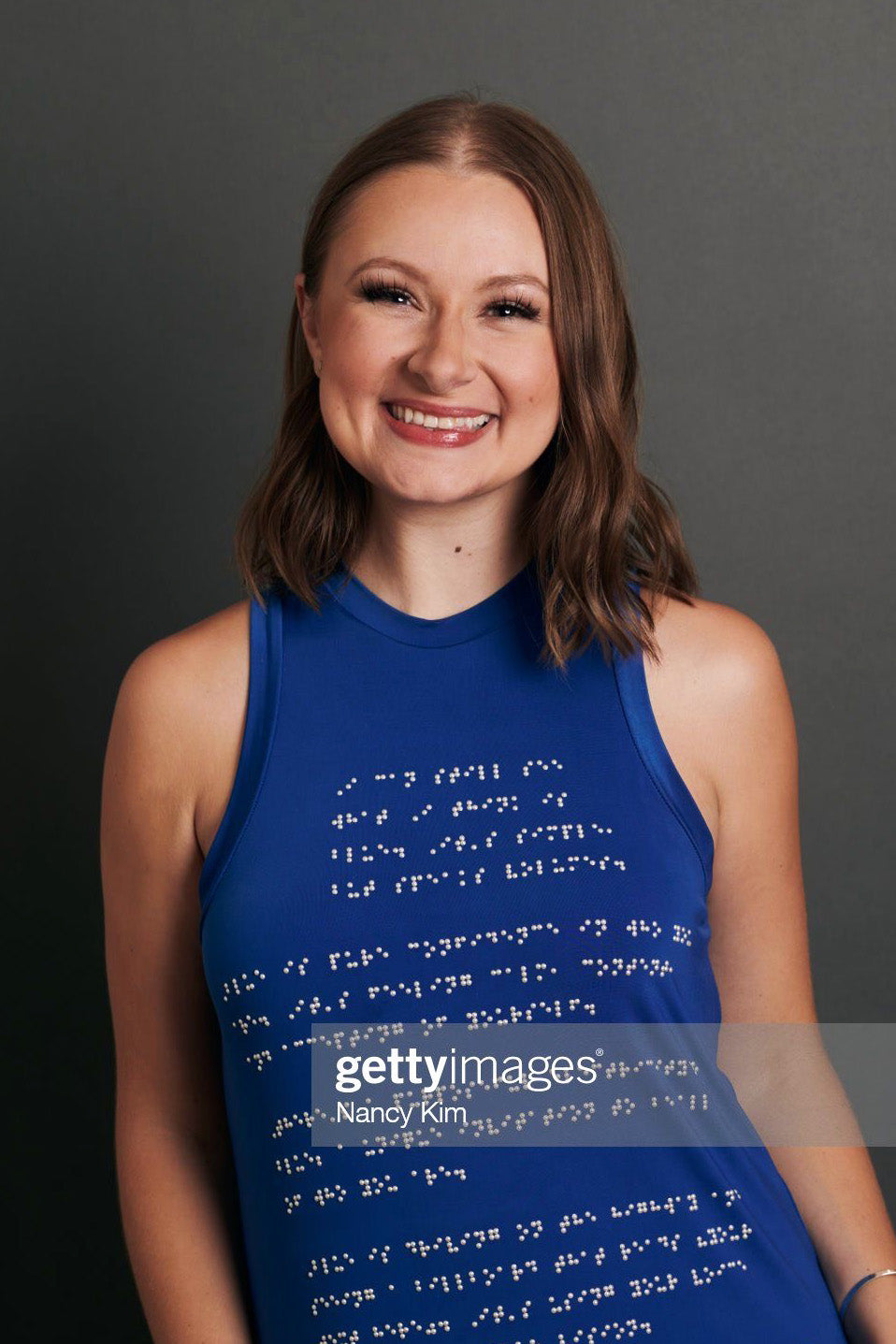 Women's Dress Size Chart (Inches)
The Blue Dress
| | | | | | | |
| --- | --- | --- | --- | --- | --- | --- |
| Sizes | XS | S | M | L | XL | 2XL |
| Chest | 30 | 33 | 37 | 39 | 41 | 45 |
| Hip | 34 | 37 | 40 | 42 | 44 | 48 |
| Length | 46 | 47 | 48 | 49 | 50 | 51 |
Braille Beadwork Transcript
I can still see what I think is blue. It's simple, but speaks volumes.
Blue is pure confidence in who you are. It's feeling calm, content, and accepting of yourself.
There's a purposeful electricity to blue; a unique excitement and invitation to be all of who you are.
Blue is driving on the highway and seeing a billboard that reads "your text here". It's using your voice and honoring your vision. 
Blue is getting on a plane and being open to adventure. It's standing in the sand, looking up, and watching the sky as a young child. It's a cold breeze on a warm day. The wind sweeping through your hair, and releasing your worries. Blue is a peacemaker. It keeps us connected. 
Blue is the feeling of freedom when you dip your toes in velvety cold water, or the sudden moment of terror when you fall in, but can't swim. Eyes wide open engulfed in a vastness of blue. Very deep and full of emotion, but somehow peaceful. On that specific day, blue was learning that I was visually impaired. 
Blindness is a spectrum, and blue is now a memory.   
I know the color blue like I know myself. It's stored in my mind, even as I move further away from actually seeing its visual beauty.
The Design Process
Garment Design
Over the course of two years, we worked closely with a variety of individuals from the blind and visually impaired community to create The Blue Dress. Together, we created several prototypes, continuously made design iterations, and had countless conversations about innovative accessibility features, social misconceptions about disability, and incorporating high end design elements. Once we were happy with the physical garment, our focus shifted to braille and the literal statement this dress can make.

Braille Text
We conducted interviews with an incredible group of women from the blind and visually impaired community and discussed the color blue in multiple contexts. Our conversations grew increasingly intimate and it became clear that color is far more than what the eye sees.
The poem was written from the interview transcripts and each braille bead contains an array of emotions from laughter and tears to clarity and acceptances. We encourage you to think about what color means to you and the role it plays in your life. How would you describe the color blue to someone? What is your first memory of the color blue? How do you feel when you wear the color blue? We hope these answers will expand the meaning of the dress and how you can find your own story within it.