Regular price
Sale price
$40.00 CAD
Unit price
per
Sale
Sold out
Aille Design has partnered with local Toronto fashion brand iloveYourMask to bring you the ultimate mask rooted in comfort, inclusivity and good design.
Stay safe and look great in our new handmade mask featuring breathable organic fabric and premium crystal pearls. The braille beadwork on these mask designs read "chin up mask on" or "i love your mask". We've selected colors that are easily paired with your existing wardrobe and are flattering to all skin tones. You can even personalize the mask with your own custom phrase up to 18 characters!

Materials

Legible braille created with premium crystal pearls. Fabric is very breathable and lightweight. Outer layer of mask is created with 100% organic linen. Mask lining is created with 100% organic cotton. Ear straps are adjustable and made with plastic to create a very comfortable fit.
Size & Fit

This mask style is designed to be fitted. Sizes are unisex.

How to choose your mask size:
Use a fabric tape measure and follow the guidelines below.

Height = Measure from top bridge of nose to bottom of chin.
Width = Measure from bottom of left ear to bottom of right ear.

Mask Measurements in Inches:


XS-Child:4.25" H x 8" W
S-Petite:4.5" H x 9" W
M-Teen/Adult:5" H x 9.5" WL-Adult: 6" H x 9.75" W
XL-Adult: 6.5" H x 10.25" W
Wash Instructions

Washable and reusable. Hand wash for best results. If needed, machine wash with warm water. Always air dry. Do not put in dryer, the plastic ear straps will melt.
Design Process

The intricate braille beadwork is applied by hand with great care and precision. Our garments are created in a process called co-design where we work alongside a diverse team of sighted and non-sighted individuals consisting of braille readers, fashion stylists, and disability advocates. Each item is made in North America and is designed to initiate conversation about disability inclusion.
Royal Ontario Museum

We're making history! Our braille mask was selected to become a part of the permanent collection at the prestigious Royal Ontario Museum in Toronto, Canada.

The ROM's Unmasking the Pandemic exhibit featured 100 masks from around the world and included not just one, but two masks that advocate for disability inclusion!

The exhibit is open to the publis until September 5, 2022. ROM Unmasking the Pandemic Exhibit Audio Tour

Our braille masks are also available for purchase in person at the ROM boutique giftshop.
Accessible Packaging

Accessible packaging includes a large print and braille card describing the product and how to wash it. We use a braille slate and stylus to add all of the braille by hand. An embossed version of the Aille Design logo is also on the card.
Sustainability

Products: Our high quality products are designed to endure a long lifespan and become a key part of your wardrobe. We also produce limited product quantities to help reduce waste.

Packaging: Our simulated braille tissue paper and branded stickers are eco-friendly and can be composted or recycled after use.
Worldwide Shipping

We ship worldwide! Our team will carefully hand bead, package, and ship your order from Buffalo, New York. Please allow 2 to 7 days for this process.

Free shipping and tracking is complimentary for all Canadian and US orders over $100.

10$ flat rate shipping is available for all Canadian and US orders over $70.

The time it takes to receive your package depends on the shipping method selected at checkout.
View full details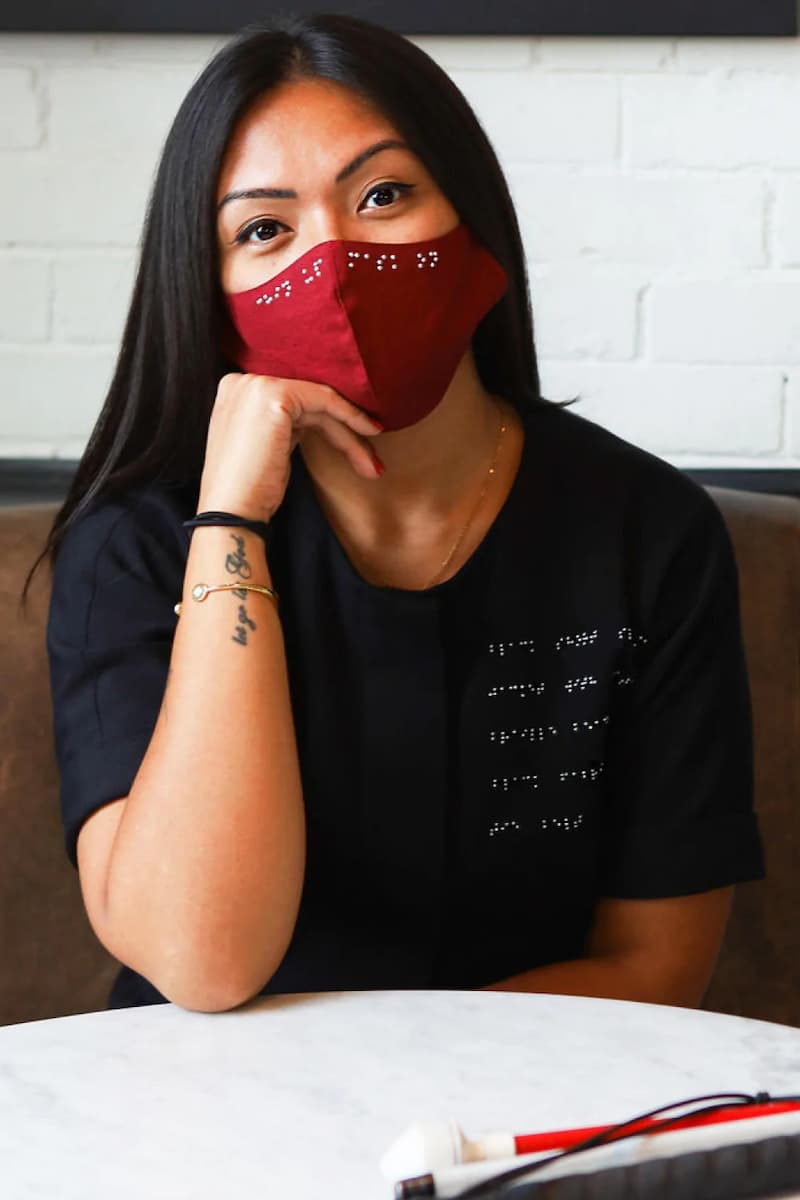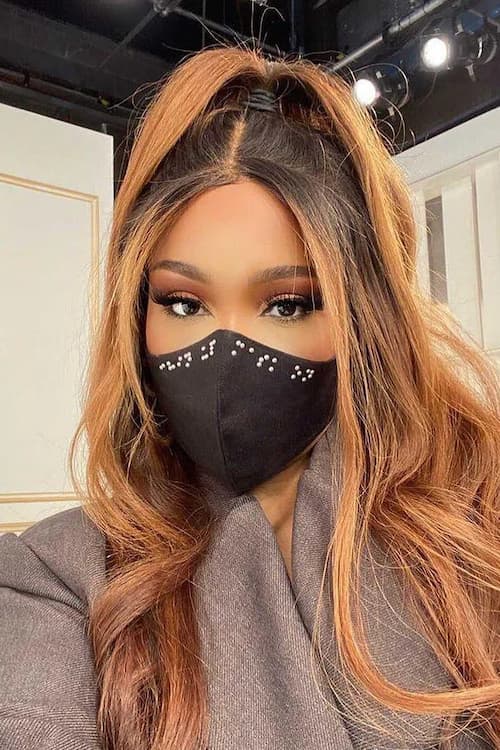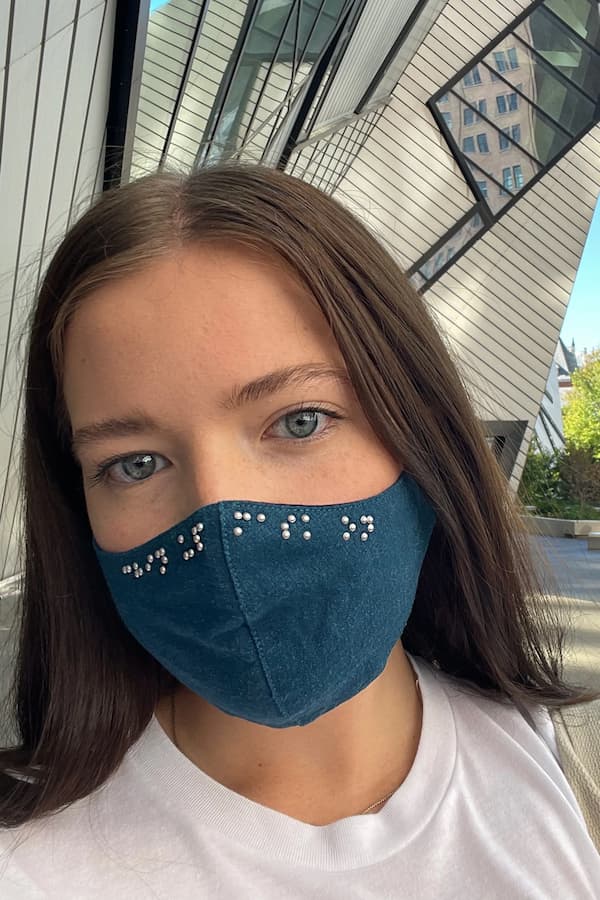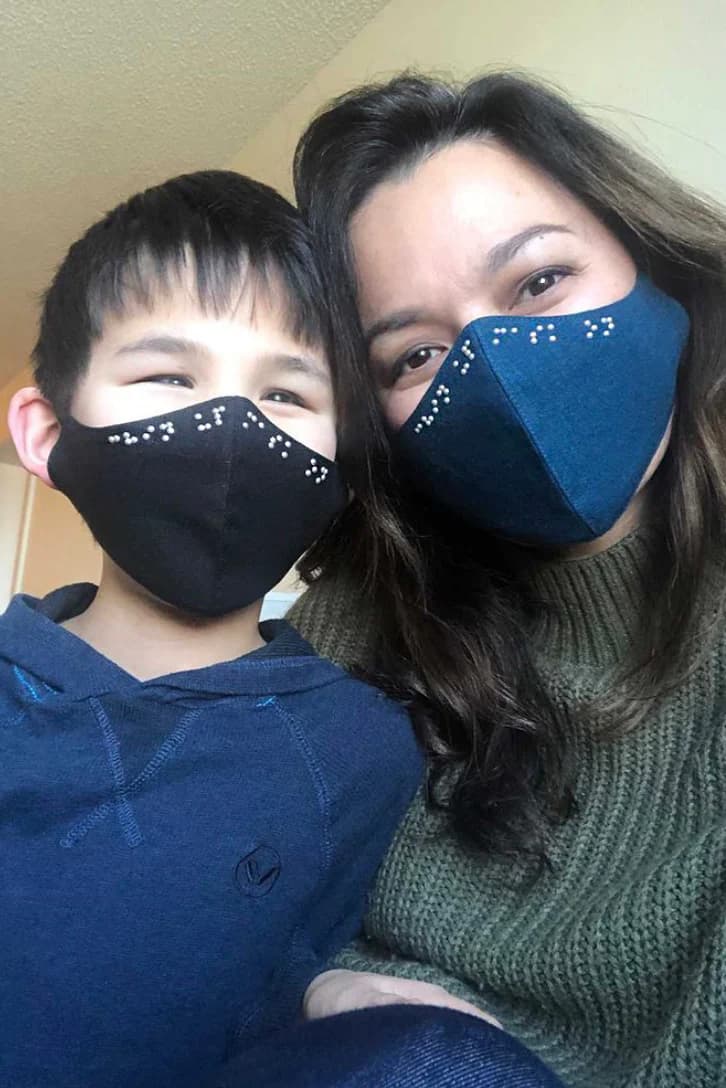 Customer Reviews
03/04/2022
Very cute and comfortable
This is one of my new favorite masks. The color is beautiful, I love the message, and it fits so well (and is adjustable!).
Jessica B.

United States
02/14/2022
Amazing mask
I love this mask so much! The fabric is soft, the beading is impeccable and I feel like a million bucks in it. All that on top of the brand's inclusivity mission. Note: I really love the adjustable ears. I have a long face that's not really wide so having that makes a perfect fit with size Large.
Freya d.

Canada
11/30/2021
Braille is fashion
I love how the mask is unique by incorporating braille. The beads hold up very well and I appreciate how the mask straps are able to be adjusted to better fit my face. It is a soft material that doesn't cause any irritation. It's hard to find products that incorporate braille, and even rarer to find products that create braille fashion. I am very happy with my braille fashion chip up mask on mask.
Monica P.

United States
11/29/2021
My Favorite Mask!
This is my favorite mask! It fits perfectly and is comfortable and breathable! I have no problems wearing it for an 8 hour work day! It's also very stylish, and I love how the braille beading is fashionable and inclusive! I always get lots of compliments and people asking where I got it! Thank you!
Lisa I.

United States
Review from Molly Burke
"This is the coolest braille clothing I've ever felt! It's so well made! Would recommend!"